Universal Transitional Kindergarten Leadership Initiative
Background image: A kindergarten student uses a magnifying glass to take a closer look at a pencil.
21CSLA Universal Transitional Kindergarten Leadership Initiative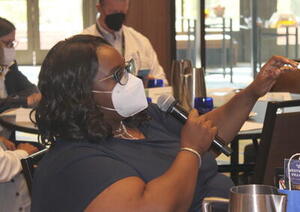 The 21st Century California School Leadership Academy—headquartered at UC Berkeley Graduate School of Education and in partnership with the UCLA Graduate School of Education and Information Studies and UCLA Center X, the California Subject Matter Project, and seven regional academies. statewide—is leading a $5-million state-funded Universal Transitional Kindergarten Leadership Initiative to prepare leaders to "lead for equity" in rolling out California's groundbreaking TK for all 4-year-olds.
The 21CSLA's UTK Leadership Initiative will include no-cost professional learning for leaders, featuring a "train-the-trainer" model and certification, development of learning modules with more than 60 hours of content, design and piloting of multiple professional learning opportunities, and evaluation and research to continually improve the effort. Professional learning topics will include developmentally appropriate instruction, socio-emotional development, inclusive practices for English Language Learners and bilingual students, recruiting and retaining highly trained and qualified teachers who reflect the community, home/family engagement, and integration across preschool through third grade—among many other areas.
The Initiative is led by Coordinator Aija Simmons and Lead Trainer Tanya Harris at UC Berkeley; Lead Trainers Jo Ann Isken and Amanda Steiman at UCLA; and Lead Trainer Deborah Costa Hernandez at UC San Diego. The 21CSLA State Center is led by Director Rebecca Cheung and Faculty Director Jabari Mahiri at UC Berkeley and Nancy Parachini at UCLA.
Meet our UTK Leadership Team